More than three quarters of a million detections of black holes, stars and other stellar exotica
The 16th of May 2018 sees the eighth data release of the XMM-Newton serendipitous source catalogue (3XMM-DR8), the largest catalogue of X-ray sources from a single X-ray observatory. This new version includes 775153 X-ray detections which relate to 531454 unique sources, where some of these sources have been detected as many as 59 times and their evolution can therefore be followed from 2000 until 2017.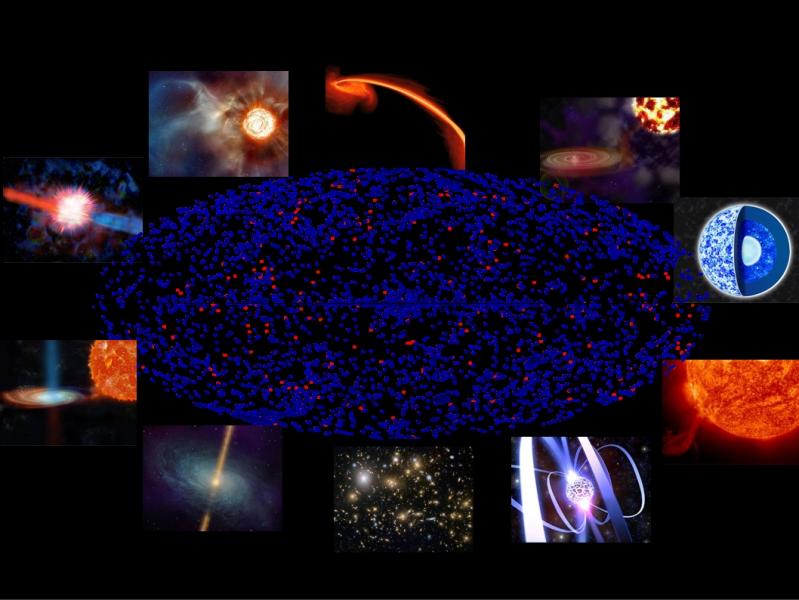 X-ray emission is amongst the most energetic light that exists and observing the Universe in this domain allows us to find matter swirling around black holes, explosions of the most massive stars known, magnetic events on stars, hot gas collected in the centre of galaxy clusters and even aurora on other planets in our Solar System. All of these objects have been detected with the European Space Agency's highly sensitive XMM-Newton X-ray observatory, which can detect hundreds of X-ray sources in a single observation of a patch of the sky the size of the full moon. The whole catalogue covers more than a thousand square degrees on the sky.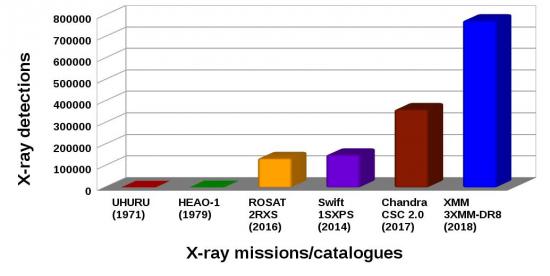 Whilst a part of the catalogue includes known astrophysical objects, the catalogue is a treasure trove of new objects waiting to be discovered using the ample data provided, including images, the variability of the source with time and spectra (the amount of X-ray light at different energies). This release is accompanied by new webpages describing the observatory XMM-Newton, the different objects discovered within the catalogue, along with games, models and quizzes for everyone of all ages to enjoy. To help disseminate information on this and other XMM-Newton catalogues, a workshop is being held at IRAP, Toulouse from 22-24th May.
The catalogue is produced by the XMM-Newton Survey Science Centre (SSC), led by Dr. Natalie Webb at IRAP. The SSC is a consortium of the following institutions:
Institut de Recherche en Astrophysique et Planétologie, Toulouse, France
Observatoire Astronomique de Strasbourg, France
Département d'Astrophysique, CEA/DRF/IRFU, Saclay, France
Leibniz-Institut for Astrophysics Potsdam (AIP), Germany
Max-Planck Institut für extraterrestrische Physik, Garching, Germany
University of Leicester, United Kingdom
Mullard Space Science Laboratory, University College London, United Kingdom
Institute of Astronomy, Cambridge, United Kingdom
Instituto de Fisica de Cantabria, Santander, Spain
Osservatorio Astronomico di Brera, Milan, Italy
Further Resources
IRAP Contact
Dr Natalie Webb, XMM-Newton Survey Science Centre director, Institut de Recherche en Astrophysique et Planétologie, Toulouse, France, Email : Natalie.Webb@irap.omp.eu