First light for SPIRou, the exoplanet hunter
SPIRou, the new spectropolarimeter and planet hunter developed for the Canada-France-Hawaii Telescope (CFHT), has successfully collected its first starlight. Ten years after its conception and after four months of intensive installation at the CFHT, this international instrument carried by France will soon be able to begin its scientific missions: the detection of exoplanets around red dwarfs close to the Solar System and the study of stars and newborn planets. The design and construction of SPIRou involved many French laboratories. It was then integrated into IRAP1 (CNRS/CNES/University of Toulouse III – Paul Sabatier) before being delivered to Hawaii.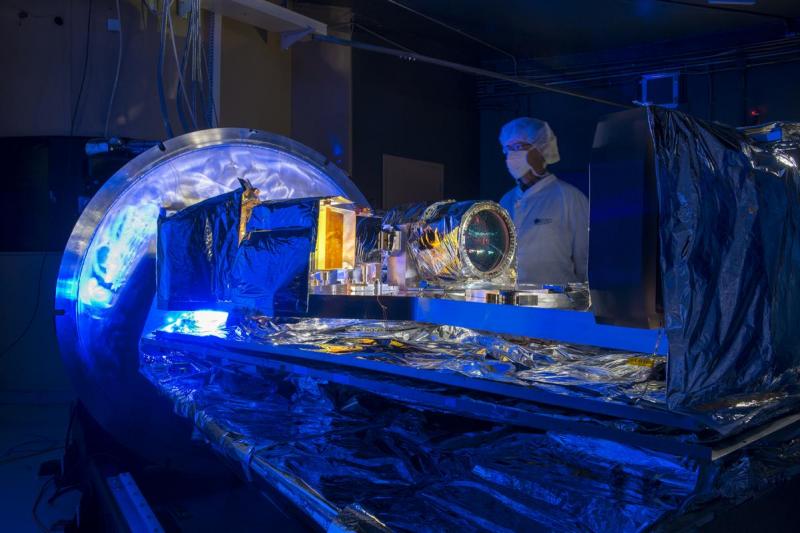 After demonstrating its performance at Irap, the instrument was methodically disassembled and crated by CNRS teams before being shipped and reassembled at CFHT, requiring adjustment of the spectrograph optics to micrometric precision. A decade of effort paid off on April 24, 2018 when SPIRou recorded for the first time the light from a star collected by the telescope, AD Leonis, located in the constellation of Leo and about 16 light years from Earth. The high activity of AD Leonis, its extraordinarily energetic eruptions and the resulting spectral perturbations make this star of obvious interest for these first tests on the sky, during which SPIRou was able to detect and measure the magnetic field present on its surface.
During the few nights devoted to this first validation on the sky, SPIRou has achieved an impressive harvest of 440 spectra, demonstrating in the process several of its new capabilities. In particular, SPIRou observed stars that are much colder than the Sun, called red dwarfs – a stellar population that includes most of the stars near the Solar System, and which SPIRou will be closely scrutinizing as it conducts its major observation program to discover planetary systems close to ours. SPIRou has also observed several hot stars, whose infrared spectrum mainly reveals telluric lines induced by the Earth's atmosphere. Identifying and filtering these telluric lines from the collected spectra is an essential step in decoding starlight and deciphering the information it contains, particularly on the presence of a planetary system.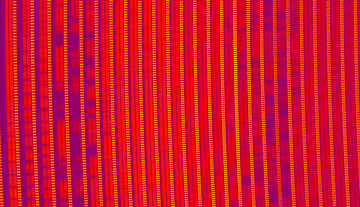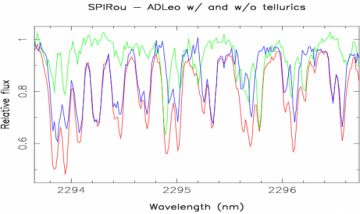 To detect planetary systems, SPIRou uses a technique called velocimetry, which uses the Doppler effect to reveal tiny fluctuations in the speed of stars that indicate the presence of planets in orbit. SPIRou should play a key role in future programmes to characterise planetary systems close to our own, in coordination with other instruments on the ground or in space such as Nasa's Tess and ESA's Plato satellites, the future James Webb Space Telescope (Nasa/ESA), or the large European telescope ELT.
After the CNRS transported the ten tons of equipment from Toulouse to Hawaii, SPIRou was installed and re-assembled on the third floor of the telescope by a team of French and Canadian engineers and specialists, with the logistical and technical support of the CFHT. An operation requiring the highest precision: cooled to a temperature of 200°C below zero, SPIRou's spectrograph is thermally regulated to an accuracy of one thousandth of a degree in order to be able to detect the minute spectral signatures induced in starlight by the presence of planets. After the installation of its latest-generation infrared detector (an H4RG TIS), SPIRou has been cooled down for another intensive session of laboratory and sky tests in preparation for its major program of exploration of red dwarfs and stellar nurseries that will begin this fall.
About SPIRou
SPIRou was designed, financed and built by an international consortium of research institutes, laboratories and universities. In France, it involves the CNRS, the University of Toulouse III – Paul Sabatier, the University of Grenoble Alpes, Aix-Marseille University and the Ile-de-France Region for its financing, as well as several laboratories and observatories of the sciences of the universe which depend on it :
Irap (CNRS/CNES/University of Toulouse III – Paul Sabatier),
Ipag (CNRS/University Grenoble Alpes),
the LAM (CNRS/CNES/Aix-Marseille University),
IAP (CNRS/Sorbonne University)
the Midi-Pyrénées Observatory (CNRS/UPS/IRD/CNES/Météo-France)
the Haute-Provence Observatory (CNRS/CNES/AMU),
the Observatoire des sciences de l'Univers de Grenoble (CNRS/Université Grenoble Alpes/IRD/Météo France/Irstea)
the Pythéas Institute (CNRS/CNES/AMU),
The consortium also involves Canada, Switzerland, Brazil, Taiwan, Portugal and of course CFHT.
Further Resources
Notes
1Institut de recherche en astrophysique et planétologie (CNRS/CNES/Université de Toulouse III – Paul Sabatier), qui fait partie de l'Observatoire Midi-Pyrénées (OMP).
IRAP Contact
Jean-François Donati, 05 61 33 29 17, jean-francois.donati@irap.omp.eu